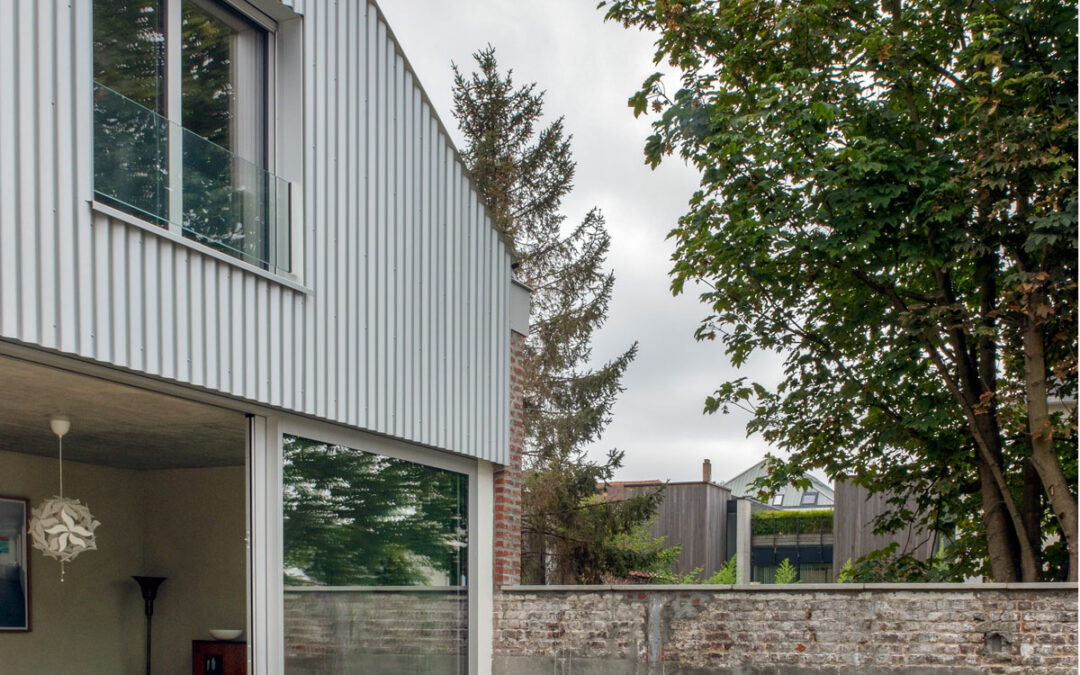 Family house in Uccle
Description: Transformation and renovation of an warehouse into a residential housing.
Type of project: Housing – Familyhouse
Type of customer: Private
Department: Transformation and renovation
Location: Uccle, Brussels (BE)
Surface area:  280 m²
Year: 2020-2022
Pictures:  Delphine Mathy
Contractor: MP instal
Stability engineers : Verhelst Engineers
Collaboration : BC architect, Rotor
PEB: Coralie Van Pottelsberghe
Located in Uccle in the interior of a city block, an aluminum coloring warehouse that had been abandoned for more than 10 years was converted into a passive house for the owners.
The ensemble formed by the carriage entrance and the abandoned warehouse covers the entire plot. It offers sufficient surfaces and sizes for the development of their personal project.
The concept is simple: to work on the void.  By creating a patio at the entrance and a garden at the back, the project can develop the necessary and sufficient facade surfaces to bring natural light into all the living rooms, entirely glazed. By adding a floor in the existing template, we provide the additional floor areas necessary for the program, while promoting the compactness of the whole and thus ensuring better energy performance. More fundamentally, this work allows the restoration of open spaces and the block is considerably aerated.
The structure is mixed: slab and floor in reinforced concrete for thermal inertia, spans and the absence of finishing, steel posts fully integrated into the insulated walls, steel frame entirely made with the elements of the existing dismantled frame.
Inside, the floors were made of rammedearth and the walls were plastered with clay, two totally circular products, made from the unpolluted and undisturbed excavated earth of the urban sites of Brussels. The terrazzo terrace slabs are made from reused materials (dismantled facades).
The workshop is covered with galvanized corrugated sheets selected for their low cost, longevity and ability to reflect solar heat. The same criteria determined the choice of anodized aluminum frames. The industrial language is a deliberate nod to the workshop's past.